The stunning part of the Dordogne
In this stunning part of the Dordogne, you will find Perigord noir. The region is most famous for its world class gastronomy, truffle production, Foie Gras, walnuts and wonderful weekly markets in which to discover all these local delicacies.
It is equally famous for its stunning chateaux perched high above the Dordogne valley as it meanders gently through the gorge, beautiful medieval towns and villages like Sarlat, Domme, La Roque-Gageac and Beynac nestled into the rocks in stunning settings.
Perigord Noir is also famous for its pre history. There are 147 prehistoric caves listed as UNESCO world heritage sites along the Vezere valley, including the world famous caves at Lascaux with the best examples ever discovered of prehistoric cave art, just 15 mins drive from Les Charmes de Carlucet.
The area is also home to some of the most spectacular hiking and cycling routes in France. 3 of which can be found intersecting right outside the front door of Les Charmes de Carlucet.
Les Charmes de Carlucet is surrounded by beautiful countryside yet only 15 minutes drive from Sarlat-la-Canéda and 1.5km from the pretty market village of Salignac-Eyvigues with popular restaurants, a weekly market, bakery and supermarkets. The nearest lovely and very popular restaurant, The Black Duck, is just 5 minute walk away.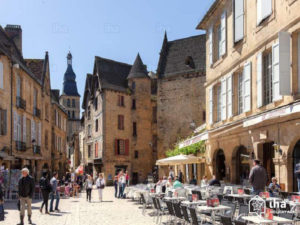 This beautiful Medieval Bastide town is the gastronomic capital of the Dordogne. It is just 12Km from Les Charmes de Carlucet. It has festivals and food events all year round including a fantastic weekly market. With its beautiful old stone, magnificent architecture and winding streets, there are surprised around every corner.
It is beautiful to visit by day and beautiful to visit by night. It also has some of the most highly rated restaurants in the whole of the Dordogne, if not France.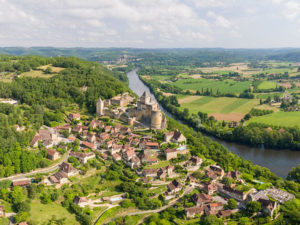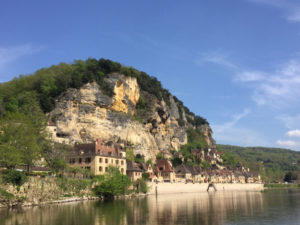 The area is fantastic for truly memorable canoeing trips or cruises along the majestic Dordogne valley. There are several places along the valley where canoes can be rented and cruises can be joined.
The area is littered with stunning cycling routes suitable for all abilities through stunning scenery. Bike maps of the area can be found at the tourist information. Nearest is Salignac-Eyvigues 1.5km from Les Charmes de Carlucet.
3 of the best cycling routes in the region intersect right outside our front door. We can arrange rental bikes to be brought to you. And can give advice and tips about the best cycling routes in the area.
Beynac: Magnificent village, it remained "French" during the war of 100 years. It was there that the film "Chocolat" was made with Juliette Binoche. Its castle dates from the 12th century. It's a fairytale village still to this day, nestled between the banks of the Dordogne and the cliffs above.
Les Jardins de Marqueyssac: Not to be missed is a visit to the beautiful gardens of Marqueyssac, the most visited gardens in Perigord. With 150,000 box shrubs pruned by hand These gardens are splendid. 5 minutes from Castelnaud, it has one of the best views over the valley of the Dordogne. Large open spaces and fun for families with children with its small playground.
La Roque-Gageac: a very pretty village on the Dordogne and 5 minutes from Beynac. Listed as one of the most beautiful villages in France. Its also a very popular spot to rent canoes and take the rive cruise on the Dordogne on a Gabarre, replicas of the merchant boats from centuries ago.
Castelnaud la Chapelle: This magnificent castle, 2 minutes from Beynac, was occupied by the English during the 100 year war. This chateau was at war with Beynac chateau during this period. It houses a very interesting and interactive museum suitable for all ages and offer spectacular views over the Dordogne and Beynac.
Domme: It is one of the most special places to visit. It is listed as one of the most beautiful villages in France. It has a remarkable panorama on the Dordogne valley. This small village is perfect for a stopover. Restaurants, shops of local products, bars, ice creams and a very interesting cave with its entrance underneath the tourist information office in the center of the village.
Les Jardins of Eyrignac: Voted the most beautiful & spectacular gardens in the Dordogne, famous for their excellent examples of topiary. A stunning setting, very close to Les Charmes de Carlucet.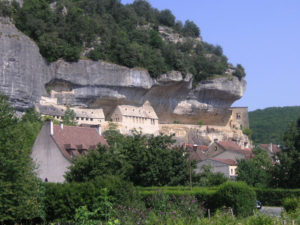 Some of the best examples of cave dwellings and earliest human occupation in the whole of the region can be found along the Vezere valley.
Les Eyzies is the village where the first evidence of human occupation was found and today houses the prehistory museum of France.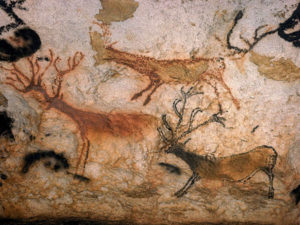 Lascaux cave, discovered in 1940 by 4 schoolboys, is the most famous Paleolithic cave in the world. In Dec 2016, Lascaux 4 opened 200m from the original cave.
It is exact replicate of the original, which is now closed to the public in order to preserve the magnificent cave paintings by Cro Magnum man. Due to great technical skill, the atmosphere of this world famous cave has been faithfully represented and is well worth a visit.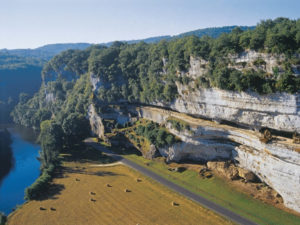 La Roque Saint-Christophe, a village of from 55000 years ago. It is therefore the largest and oldest rock site in the West. This cliff located halfway between Les Eyzies and Lascaux, stretches over 1 kilometer. It was occupied by man during prehistoric times and then used as a fortress in the Middle Ages.
Listed as a world heritage site by UNESCO, is a truly magnificent site, not only because it is so rare and so beautiful, but also because of its powerful shapes, numerous dwelling and the length of time it was inhabited by mankind.
Saint Geniès: Very pretty village, roofs of lauze(heavy local stone), nice markets Sunday morning and Wednesday evening in July and August. Just a 5 minute drive from Les Charmes de Carlucet.
Saint Amand de Coly: Small lost village with eleventh century Abbey (visitors free). Listed a one of the most beautiful villages in France. 15 mins drive away.
Montignac: Pretty périgourdine city crossed by La Vézère with a typical market Wednesday morning. Next to the Tourist Information Centre, you can buy tickets for "La Grotte de Lascaux IV" – a reproduction of a part of Lascaux, complete with prehistoric drawings.
Saint Leon sur Vézère: Very beautiful and highly recommended village to view, the restaurant Déjeuner sur l'Herbe, and the castle is as in a fairy tale! Also listed as one of the most beautiful villages in France.
Strong House of Reignac: 15 minutes from Montignac, this is the strangest and most secret castle of the Périgord. Its splendid architecture is built into the cliff. Each room you visit offers a different perspective on prehistory.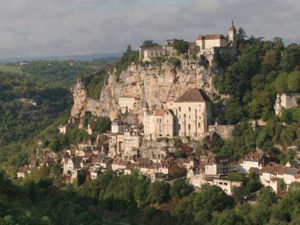 Rocamadour: second site of France after Mont St Michel. A wonderful and unforgettable visit. Listed as a UNESCO world heritage site, it has more than 1m visitors a year.
It was voted the most popular village in France in 2016. It has been an important pilgrim destination for over 1000 years and is also in the most dramatic and picturesque cliff top location.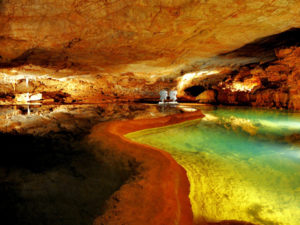 Padirac Chasm: this visit will remain forever engraved in your memory. You will descend more than 50 meters then you will return in the abyss on a boat.
We advise you to get up early for this visit because if you arrive too late, you will have to wait very long.
Book with us directly for guaranteed best rates >