Landscape painting holidays in Dordogne
based at Les Charmes de Carlucet, near Sarlat-la-Canéda
Course overview
Saturday 28th March – 4th April 2020
It is not possible to book directly online on our website. So please contact us directly.
Designed for artists who have some experience of painting outdoors and wish to capture the beautiful scenery and changing light of this stunning area of South West France.
Our tutor, Diana Seidl has been teaching art for many years and has a wide experience of many different media. She is an extremely accomplished, talented and experienced artist and tutor.
This course welcomes those who want to paint in oil, acrylic, watercolour and pastel and even a mixture of these. Bring the media you find the most comfortable with but remember the pictures need to travel home with you.
You should bring all materials with you. There are many lightweight easels on the market that collapse in small packages and go easily into your luggage. There is also an Art Shop at nearby Sarlat-la-Canéda for emergency supplies. We supply painting stools.
Each working day will start with a "teach in" at the studio in the Manor house, focusing on a particular aspect of landscape painting. e.g. composition, colour, tone etc. This is designed to prepare the artists and help them when they start their work.
Please bring a camera, phone or iPad to help record the light, as it will change dramatically during the day. Most days we will do a morning painting and an afternoon painting. At the end of each working day we will meet in the studio and there will be a roundup to look at each other's work, and discuss good and development points of the day, followed by dinner at Les Charmes.
Our tutor Diana, will ensure that each artist will be encouraged to develop their own approach to the landscape through in depth personal teaching.
Participants should be able to walk for short distances carrying their equipment. We will transport you to and from each painting location each day.
If you would like to find out more about our tutor Diana do please look at her web site www.dianaseidl.co.uk
Maximum class size: 7
Days of Tuition: 5
Painting Holiday includes
Please note that holidays do not include flights or transport to and from the airport. Please see "contact us" for more details about finding us.
7 nights accommodation in a private en-suite double bedroom in our 5 star Manor House and Villa
Please note that prices are based on one artist travelling solo. If you are travelling with a partner not participating in the course, please contact us for pricing information. They are very welcome
Course starts with an arrival dinner on Saturday evening followed by tuition starting Sunday morning and finishes Friday evening
5 day landscape painting course with Diana Seidl outstanding artist and extremely experienced and sort after tutor and author
Wednesday is a free day to explore the area and includes a guided visit the world famous caves of Lascaux
All meals served at Les Charmes de Carlucet. Apart from final dinner on Tuesday and Friday evening when we will dine at a local popular restaurant
House wine included with meals. Additional drinks can be purchased at Les Charmes
Transport to and from painting sites
Painting activities include:
Saturday evening welcome drinks and dinner at Les Charmes. Meet your hosts Kerry and Tomas and your tutor Diana Seidl. Presentation by Diana of the weeks programme
Breakfast is served in our beautiful sunny dining room overlooking the pool and gardens, followed by an introduction to the project of the day focusing on a different aspect of landscape painting designed to help prepare each artist for the days work
Then the group will be led into the field on practical and enjoyable outings around the glorious countryside, gardens, chateaux, villages, towns and markets of the famous Dordogne region, including Sarlat, Saint-Léon-sur-Vézère, and the gardens of Eyrignac
There will be a painting session each morning, followed by lunch back at Les Charmes. Then another painting session in the afternoon
Each day will finish back at Les Charmes for an assessment of the day where Diana will continue to encourage each artist in the development of their own approach to landscape painting
Course dates
Saturday 28th March – 4th April 2020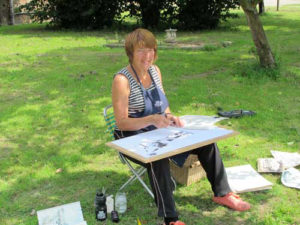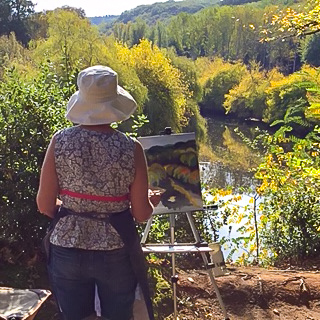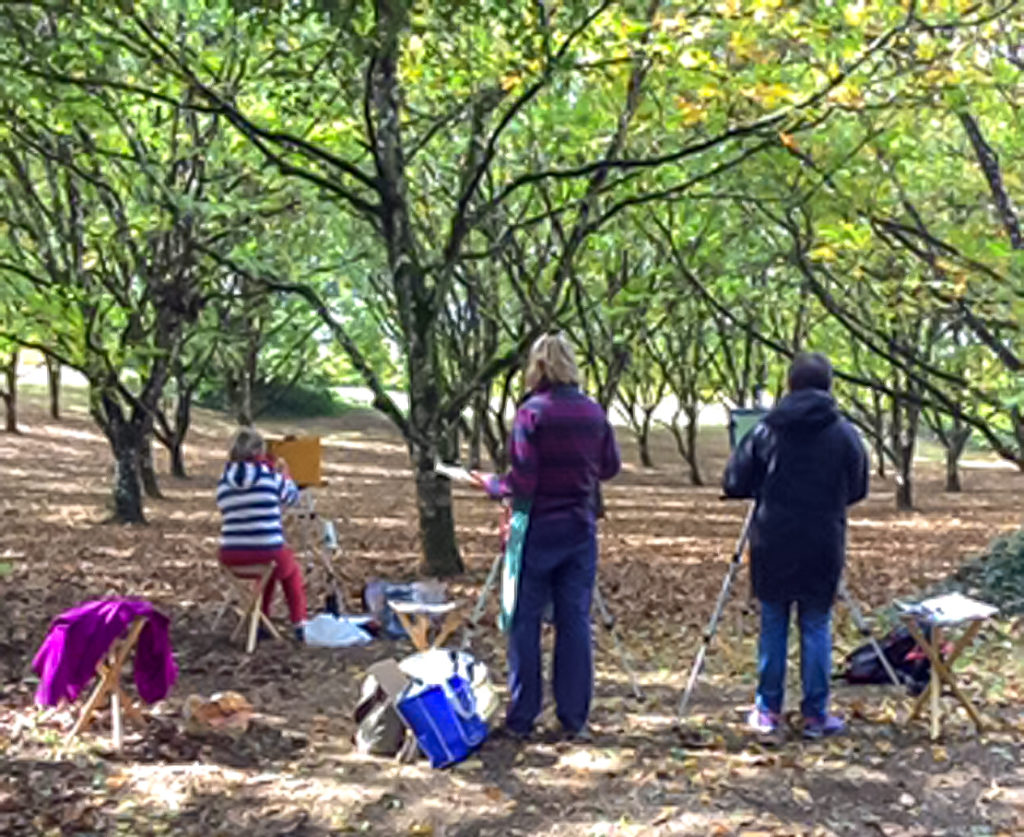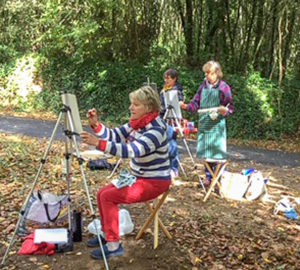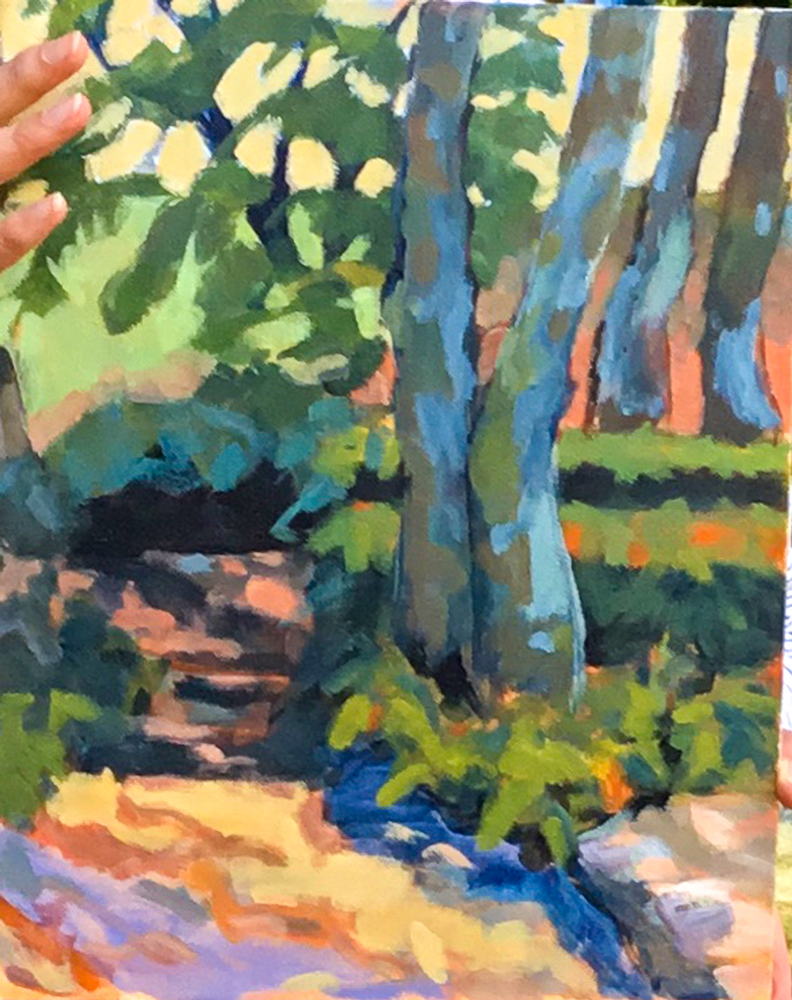 Prices for Painting course
1,300 € Per Person. Please see Price Details below.
Costs are per person:7 nights accommodation, 5 day course, all meals & wine with meals included. Meals served at Les Charmes apart from 2 dinner in local restaurants.
Not included: more details here...
Transport to and from airport or train station (Return transport from Brive airport 90 € per person)
Flights
Alcoholic beverages in addition to half bottle of wine/beer included in dinner menu
Entrance for Lascaux cave guided tour 20 € per person, Eyrignac gardens 10.50 € per person
Extra guests sharing a room but not participating in the course, just pay for the meals they will join