Letter Carving Master Class
Course overview
From Saturday 9th April 2022 to Saturday 16th April 2022
If we have to postpone the course due to travel restrictions as a result of Covid19, we guarantee that the course will take at a later date when travel is possible for everyone.
It is not possible to book directly online on our website. So please contact us directly.
Intro
The ancient art of carving letters and symbols into stone is as old as writing itself. This enduring art form continues to have many uses in both historic and contemporary contexts. It's a skill passed down to us by the Romans. The letters' harmonious proportions and the graceful lines of their inscriptions still provide the standard for contemporary typography today.
Description
The V-cut Roman Capital will be the main focus of this carving course. A study of its design is essential for anyone who is interested in the art of letter carving in stone. It provides insight into lettering basics and develops a heightened aesthetic awareness. All this while improving your chiselling technique as well.
The course is a fundamental introduction to the basics of letter carving in stone and provides you with all the necessary insights to get you started.
Professional letter carvers have arguably the most delicate mastery over the use of hammer and chisel. This course is ideal to build up confidence with these tools from the get-go. A wide variety of cutting techniques will be taught and demonstrated. Easy to follow practicing exercises will be assigned to prepare you for your first letter, the capital "I". Once you have mastered this letter, you can move on to more complex ones.
After
This letter carving course is suitable for all skill levels, whether you are a passionate beginner eager to learn, or a professional looking to expand your skill set.
At the end of the course you will have gained the basic knowledge of the craft and will be able to continue to practice on your own.
At the end of the carving week you will be able to take back home a nice small marble plate hand carved by yourself. It might have your initials carved on it, your house number or perhaps even your full name or that of a loved one!
What you will learn
Insight into and appreciation of the Roman Capital letters, their design and proportions.
Preparing a stone for letter carving.
Transferring a design onto stone.
Sharpening of flat chisels.
Basic use of the flat chisel.
How to carve letters into stone.
Detail of course
Level: Beginner/intermediate
Difficulty: Easy
Stone: Marble
Estimated carving time: 6 hours/day
Material needed
All carving materials and tools are included in the cost of the course. The instructor will bring a set of hammers and chisels to be used during the course and a stone for each student.
Course Content
Day 1
Brief theoretical introduction
Carving exercises
Day 2
Carving exercises
Carving your first letter. The "I"
Day 3
Free day to explore the local area of the beautiful Dordogne. Guided excursions can be arranged at an extra cost
Day 4
Designing your layout
Carving your layout
Day 5
Day 6
About our Tutor
Athar Jaber was born from Iraqi parents in Rome, in 1982. He grew up between Rome, Florence, The Netherlands and Antwerp.
Having been brought up with images of the Gulf War, themes such as suffering and violence became inevitable. Meanwhile, growing up in Florence allowed him to develop an understanding of classical sculpture and its quest for ideal beauty. Athar Jaber seeks to explore the contrasting condition of violence and beauty that have played a significant role in his development as an artist.
Athar Jaber's work is part of various private and public collections such as the Barjeel Art Foundation, The Palestinian Museum, the National Museum of Fine Arts of Havana and the FAO Headquarters in Rome among others.
He currently lives in Antwerp, Belgium, where he practices his profession as an artist, a PhD Candidate and Associate Professor of sculpture at the Royal Academy of Fine Arts.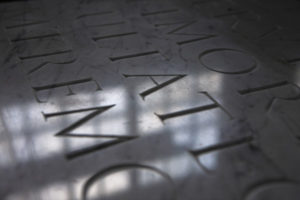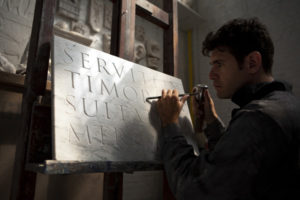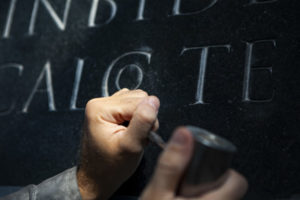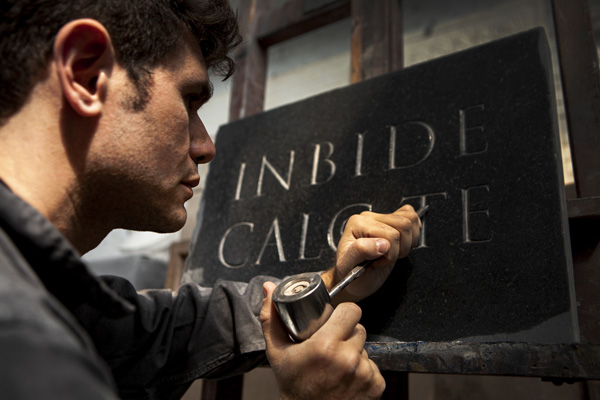 Prices for Letter Carving Master Class
1,595 € per person. Please see details below.
Costs are per person per week: 7 nights accommodation, 5 day course
Dinner is 3 courses and half a bottle of house wine or soft drinks and coffee
2 dinners will be at the local restaurant The Black Duck, cost is included
Extra guests sharing a room but not participating in the course, just pay for the meals they will join. Breakfast 12€/Lunch 15€/Dinner 25€
Not included: more details here...
Alcoholic beverages in addition to half bottle of house wine included in dinner menu
Transport to and from airport or train station
Flights